Quarantine throws a wrench in seniors' college searches
Every high school student begins to plan their next steps once they graduate from high school. Whether it's joining the armed forces, going to college, and much more. 
During this challenging time of Covid-19, many students haven't had that much of an opportunity to have a full college tour experience. 
"I have had to do virtual tours of my top 5 schools since their campus is closed," said senior Janci Finkley.
Many high school students tend to narrow down their top schools if they have the major they would like to pursue in the near future and the location of the school. Many students do base the decision of the school off the weather- literally if there will be snow outside in December or if the temperature will ever reach 103 degrees outside in the middle of July. 
"What sets my determining colleges apart are the location and the culture," said Finkley. 
When college comes around a lot of parents dread this conversation because they don't want their children to leave from home, while on the other hand most students can not wait to be "free" or on their own for once. Many students become very eager just because they get to have some form of real responsibility when they are not under their parent's shell anymore. 
"I'm excited to leave home, I've been with my family for 17+ years and under their influence, I'm ready to step," said Finkley. 
While on the other hand, some students could care less about whether they are close to home or not. 
"I personally don't really care how close my school is to home, as long as I learn what I need," said junior Joel Mohammed- Paige.
Most people do say that their freshman year does make them a little homesick but most high school students are just thinking about being on their own and not really thinking about if they will really miss their families.  
"I doubt that going to college is going to make me that homesick, I'd obviously miss my family but I'll be fine," said Mohammed-Paige.
The main focus has always been on high school students during the college search, but many people have not actually stopped and think about what college students are going through, especially the freshman and senior college students. 
"Taking college classes online due to the pandemic is a vastly different experience, there's definitely pros and cons, but I'd say it's slightly harder," said Mercedes Lane, who attends Eastern Kentucky University.
With the pandemic college students sort of had to make major adjustments from sharing a dorm with someone to now being alone, having to come back to school after months of being home with their families, and even having to adjust their sleeping schedule if having to stay home to meet their class times if in a different time zone. 
"The pandemic is definitely affecting the social aspect of the college experience with all the guidelines sadly, but on the bright side it has given us more time to learn and made it easier to get better grades," said Quincy University Junior  AJ Hardin. 
"It's overwhelming. I hate sitting in bed all day on my computer. It makes me lazy and not want to actually do my work. I am only motivated because I talk to other students that I am required to talk to for group assignments. I could say I actually miss stressing myself inside a classroom," said Trinitee Savage who attends the University of Missouri St. Louis (UMSL).
With this thing that we call the pandemic or Covid-19, most people tend to forget the backbone of college admissions or known as school counselors. 
"My role is to help guide students through the process of their post-secondary decision making," said Ms. Dymes, high school counselor. 
With the decision-making process of college, it can be extremely difficult to decide what school is best for you, especially now more than ever because of covid. But high school seniors won't let that affect their decision in a big way.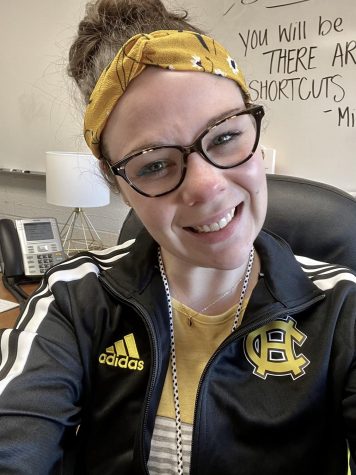 Some people may ask how a counselor encourages students to choose a school without putting their complete life story on why the school is a good fit for them.
"I feel as though that first and foremost it is my duty to help guide students in whatever
they want to do it. I do believe that sharing personal college experiences can be helpful in some circumstances however it must be done in such a way that it does not impose personal views on the student. If I share my view on a student's college choice it will be in support of whatever they have decided for themselves." said Dymes.