4 Classic Black Films to Reconnect With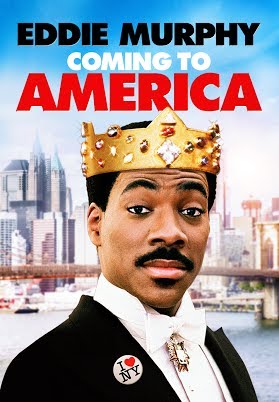 Coming to America: Comedy films have been a staple in the realm of movies for a significant amount of time. What people don't know are some of the extraordinary black comedy actors that light up this genre with innovative and fun ideas. Eddie Murphy sits among the greatest and holds the place in a fair amount of people's hearts as the greatest film comedy writer and actor of all time. During Eddie Murphy's peak, he wrote and acted in films such as Trading Places, The Nutty Professor, Norbit, Meet Dave, and a plethora of others. All though the one that stands out to me the most would be Coming to America.
Coming to America consists of a wealthy prince who resigns in an African country and wants nothing more than to be loved by a wife who sees him not for his title but his character. Despite desiring this his mother wants him to have an arranged marriage. As an act of defiance against his mother's wishes he flees to America to find genuine love, along with him his friend Semmi (Arsenio Hall) who constantly has to keep him out of trouble. Throughout this whimsical story, Akeem (Eddie Murphy) and Semmi (Arsenio Hall) seek to find true love while faced with the hardships of a new country and the finding of one's true purpose in this world. Eventually, Akeem (Eddie Murphy) finds his true love and lives happily ever after back in Africa. Eddie Murphy sets the bar with his exciting takes of each character he plays throughout the movie, providing laughs from all the costumes, and voices he provides. Films such as Coming to America and other Eddie Murphy movies will always be must-sees on any black person's film list because of the cultural shift they caused within the comedy sector of film. Eddie Murphy brought new revolutionary roles to black comedy with his unique takes on portraying his characters.
The Five Heartbeats: Black movies in the early 1990s never lacked drama, and The Five Heartbeats never wavered from depicting said acts of dramatization. The New Edition movie, which was regularly broadcast on television and brought in millions of dollars at the box office while having a minimal budget, is just one example of a famous movie that owes a lot of its success to the influence of The Five Heartbeats.  At the time, boy bands were becoming increasingly successful, thus it was important to provide a gritty depiction of what went on behind the deranged crowds and dazzling lights. The growth of black acts like New Edition, Boys To Men, and Jodeci during the 1990s—acts that also had their share of affairs and were on the rise—was what drove the development of The Five Heartbeats.
A new boy band is known as The Five Heartbeats, consisting of Eddie King (Michael Wright)  Duck(Robert Townsend), Choirboy, J.T. (Just Leon), and Dresser (Harry Lennix), was gaining popularity in the early 1990s. Throughout the narrative, each character battled their own personal demons, such as alcoholism, drug abuse, despair, and anxiety. While each member struggles with battling these issues, the pressure of fame and the current rise of racism in this form continued to undermine their success. They strive to persist via their mutual love of music and their ardor for their work. Their shared suffering provided them with a bond as brothers that further strengthens their bonds with one another and their music. This film preserves the love and happiness we experience from black music while also honoring its rich cultural heritage. This cult masterpiece is regarded as ageless and will endure in black spaces for an extended time which makes it a significant standout in the black film community.
Tales from the Hood: In the modern film landscape, a breadth of black voices has made a significant impact in the realm of horror. After the unprecedented success of the decidedly low-budget Get Out, the floodgates were opened for other budding black actors, writers, and directors to create their own stories informed by black horror and social issues. Since the release of Get Out, films that parallel its unapologetically black attitude such as His House, Candyman, and Bad Hair, and shows such as Them and Lovecraft Country, have received their own respective critical and financial success. Though all of these cinematic works are fresh in the collective pop culture consciousness, many fans of these films are unaware of what might be the central influence on this new wave of black horror: The 1995 cult classic Tales From the Hood.
Tales From the Hood is a horror film comprising 4 separate stories all centering around the theme of being black in America. Though black horror had existed before, specifically through the work of directors such as Bill Gunn (Ganja and Hess) and William Crain (Blacula), Tales From the Hood separated itself from works before by dealing with more modern themes and concepts and abandoning the Blaxploitation film tropes of yesteryear. In this way, the correlation between this and the modern black horror of today is much more visible. Police brutality, the broken black family, and political corruption are all themes that were explored back in '95 similar to the way they are explored today. Even the satirical, occasionally comedic tone that the film utilizes isn't much of a separation from what is seen in the work of Jordan Peele. At the end of the day, Tales From the Hood is an excellently acted, written, and executed piece of work. Many say that the growth and expansion of a film's impact correlating with the progression of time is the mark of a true classic, and few films of the 90s are as influential on today's films as Tales From the Hood.
Love Jones: Within the black film, there has always been an abundance of romance to consume. Dating back to films such as Hitch, Best Man, The Wood, Waiting to Exhale, and a plethora of others. Though all these movies had a heavy impact in their way one has always stood out to the black community more. Love and Basketball have been a cult classic in the black community since the year 2000's were it first hit the silver screen. Whenever you ask a young black person what movie they enjoy the most they will most likely utter the name Love and Basketball, but what a lot of people don't know is the movie Love Jones was a big influence on most of these love stories I previously spoke of and the biggest influence to Love and Basketball. Love Jones is a black love story that is commonly looked over when it comes to the young black community but it also stands at the forefront of amazing black love stories that show a raw relationship filled with love, passion, and conflict.
Darius (Larenz Tate) is an aspiring writer who happens to meet Nina (Nia Long) at a club in the heart of Chicago and from that interaction they knew sparkers were apparent. Through their shared love of music, poetry, and photography they embark on a passionate love story. Although their relationship starts to contract issues when Nina reconciles with her ex-fiance Marvin (Khalil Kain). This leaves Darius heartbroken and both parties confused about how they can continue their relationship from there. In terms of romance dramas, Love Jones will always be regarded as worth seeing due to how unvarnished and real the relationship is portrayed. Love Jones dared to be distinctive and move forward with an actual beginning, middle, and finale whereas the majority of movies at the time sought to go with an obvious plot that satisfied the public. Love Jones will always be on my list of must-watch movies because of the authentic way it depicts black love.