New sheriff in town
Coach Brent Chojnacki will replace Head Coach Van Vanatta next season
"Central is just a winning team overall so either way it goes we're going to be good and win games."
That's the attitude that Raphael Bell, junior running back, and majority of his football teammates feel about the drastic change coming for the varsity football team. Coach Van Vanatta is ending his 6-year stretch as head football coach, and handing the job over to 5 -year assistant coach, Brent Chojnacki.
Coach Vanatta is disappointed that he has to leave his home but is excited and believes that Hazelwood Central varsity football will continue to thrive without him being the head coach.
"It's always a tough decision anytime you leave anywhere. But this is an opportunity for my family and that's first and foremost. I love the players here and they have given a lot of great effort and have done a lot of great things," said Vanatta.
Coach Vanatta will lead Columbia, Missouri's Rock Bridge High School varsity football program this upcoming fall.
Vanatta believes that without Chojnacki's help the last couple of years, they would not have been as successful.
"I think Chojnacki is an amazing coach and without him we would not have done the things that we did over the last couple of years. The one thing that's good is a lot of the things will stay the same for the kids so the transition will be pretty easy for him," he said.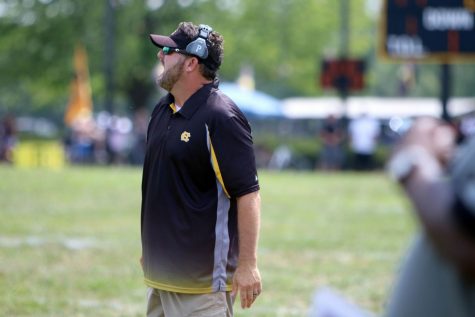 Coach Chojnacki himself feels ready for the challenge of being the head of Hazelwood Central football.
"It's my opportunity to finally do things my way, which I feel is the right way. It's my program so I have to answer and make sure I am doing things the right way," said Chojnacki.
Chojnacki also has plans for making adjustments to the teams regimens.
"We're going to change a bunch of things, especially at practice. For the most part a lot of the same traditions though, like Hawk jumping jacks and all of those ideals will stay the same, "he explained.
Even though Chojnacki played football at Hazelwood Central, he never thought he would become the head coach of the program,
"I never thought this would happen. So, I am excited about it and I am going to do everything with the opportunity I got," said Chojnacki.
John Pukala, activity director and former head coach, is excited for the upcoming season.
"I'm very excited. I've worked with him for the last 5 years and he's going to do a great job," said Pukala.
Pukala feels like Chojnacki has what it takes to be a Hazelwood Central football coach.
"He knows exactly how we do things here. He's been apart of the tradition, that's Hazelwood Central football. We've always stayed in house for our head football coach jobs in the history of the school. He's young and he's excited and he will bring ideas to move us forward," said Pukala.
The football players are looking forward for Chojnacki's leadership,
"I'm pretty excited, I've known Chojnacki since I've been here and he's bring a lot of excitement to the team and have us prepared every week," said Dallas Craddieth, junior wide receiver.
Many of the players aren't worried because they have faith he will do well.
"He knows what he's doing so I have faith in him," said James Whitfield, junior wide receiver.
Even though many of the football staff and players will miss Coach Van Vanatta, they are looking forward to having a new sheriff in town, Coach Brent Chojnacki.
Despite the changes, players are just looking forward to having a winning season next year.
"We just got to win that last game" said Whitfield.