State or bust: varsity basketball team has its eyes on the prize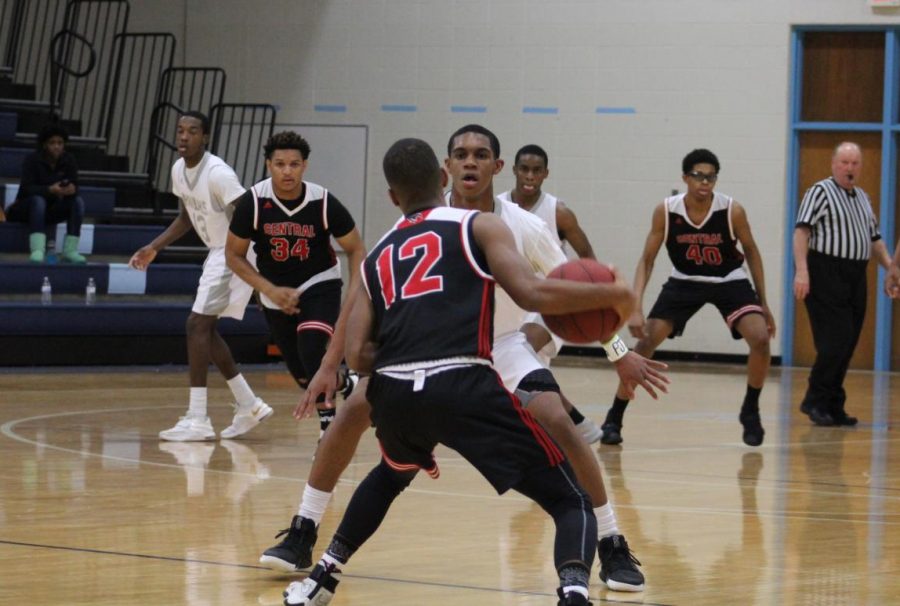 It's getting cold outside, football season is winding down, which means basketball season is here. Hazelwood Central basketball team looks strong and primed for a state title run.
Hazelwood Central finished with a record of 18-8 last season, but lost to Pattonville High School in the district championship.
The Hawks are bringing back 4 starters from last year's team: Cameron Williams, Telly Wright, Maurice Hayes, and Kansas State commit Shaun Williams. They also bring in transfer guard Jhaylen Covington-Berry, and key reserves Larrion Beard, Damon Cobb and Devonte Jefferies.
The Hawks also made a head coaching change this offseason. Former Head Coach Josh Martin moved up to  become Hazelwood Central's Athletic Director, handing the job over to longtime assistant coach Brandon Gilmore.
"I'm excited for the season, I really believe we have a chance to win it all," said Coach Gilmore.
Coach Gilmore is not the only one who thinks the hawks have a chance to win it all.
"I want to win a state title so bad," said senior Shaun Williams, "That's the goal this year.
Though this team knows that they cannot look past anyone this year.
"It's a one-game approach, we cannot look past anybody because you can get beat on any day by any team," said  Gilmore.
"We cannot look past nobody because one loss in the playoffs and you are sent home packing, there are no seven game series," said Williams.
The Hawks have a majority of their squad back from last year. So Coach Gilmore believes that will give them an advantage that other teams won't have.
"We already have a great amount of chemistry from last season. We won't have major chemistry issues, or messing up on plays early in the year, like most teams have," he said.
"Everybody knows their role, of course we will scrap and argue like any team does, but we know how each other plays and everyone has there own thing that they do well," said senior Cameron Williams.
The Hawks will have stiff competition in district play as Pattonville High school looks to repeat as District 3 champions, even while losing their leading scorer and assist man, Destan Williams. Though, Pattonville will have a roster turnover losing a staggering nine seniors.
Meanwhile, Mccluer North is not a team to sleep on either. They defeated the Hawks in a double overtime thriller last January but, the Hawks got the last laugh with a blowout victory in the district semifinals.
Other teams in District 3, Francis Howell North and Hazelwood West, are improved teams but they are probably not contenders for the district championship. Hazelwood West went 5-21 last year but, had a very close game with Pattonville in the districts semifinals, losing 64-57. Fort Zumwalt North went 5-20 and last year did not get a single win in district play.
If Hazelwood Central manages to get out of districts victorious, then they will have stiff competition heading their way.
2017 state champions Webster Groves are looking to repeat. There two big stars Carte'are Gordon, St. Louis University Commit, and Courtney Ramey, 4-star prospect, are going to want to end their careers with nothing less than a state title.
There are many teams gunning for that State title. The 2016 State Champions Chaminade, led by North Carolina State Commit Jericole Hellems, will be in the race for the title.
But like Coach Gilmore said, the Hawks will have to take it one game at a time.
Hazelwood Central kick things off in the Jerry Boeckman Memorial Invitational Tournament at Vianney High School, 11/27- 12/1.