New building access policy has some students frustrated
The administration stands by the changes, and explains that they have created a safer school environment
Teachers and students are very frustrated and upset about the field house doors being locked in the morning time at Hazelwood Central High School, during the 2017-2018 school year. This policy has created some concerns and problems throughout this school.
One of the effects of this policy are that in the morning, all students have to enter through the main door or B Hall entrance. All other doors are locked in the morning except for those two specific entrances. This means that all students that drive have to walk all the way from their cars to the main entrance in the morning time.
"My car is one of the farthest cars on the lot, I am close to the football field so it takes me a much longer time to get to the main entrance," said Chrisahalyn Dailey, a senior who attends this school.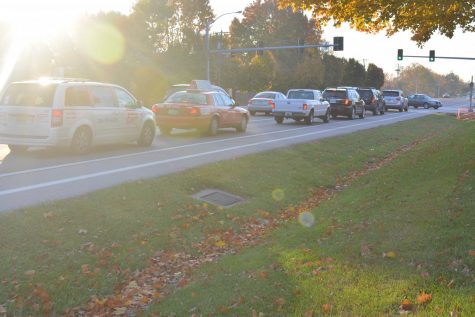 Administration officials explain that this was a team decision, and that it was done to make the school safer.
"It was for safety and security reasons. There was a lot of students that should not have been there (the field house), incidents in the field house, such as children smoking and fighting," said Dr. Mitchell, Building Principal.
At the beginning of the school year, he explains, there were fights and students wandering around early in the morning.
"The main reason why we locked the doors was because of the numerous altercations being taken place (mainly by the gym) and the students walking around in the morning time. Student safety is important and we want to keep our students safe," said Mitchell.
One important consequence that come with this new policy is the increase in tardiness. Tardiness has become a huge issue with students at Hazelwood Central High School. It takes the students huge amounts of time to get in the building.
"Last year I did not have to wake up as early as I do this year. I arrive at school at 7:15 am. It takes me a good 5 minutes to actually get on the school parking lot because of all of the traffic. By the time I get on the lot it is around 7:20 am, by the time I park it is 7:22 am, it takes me at least 5 minutes to get all the way up to the front of the school," said Chrishalyn Dailey, "I am late to class almost every other day."
Some students have adjusted their morning routine to deal with the extra walking distance and parking lot congestion.
"This has changed my morning routine by a lot. It makes me leave my house earlier because it takes me longer to get to class," said senior Rebecca Williams.
Teachers have noticed a difference, explaining that it seems to take longer to get all of the kids in the room and to get the day going. 
"It normally takes me 10-15 minutes after the bell rings to get all of my students in the classroom," said Ms. Poos.
With the increased travel time for students, there may be an increase in tardies.
"Last week I had 10 students receive tardies for my first hour," said Ms. Sullins, FACS teacher.
The policy change has not just had an impact on students. Teachers who had been used to coming in to school early had to adjust as well.
"Normally teachers are allowed to come in through B hall entrance with our fob. The fob pad was broken.. Since all of the doors are locked I had to wait outside for (about) 15 minutes," said Ms. Poos.
Some teachers asked for keys because they know that it is getting cold outside.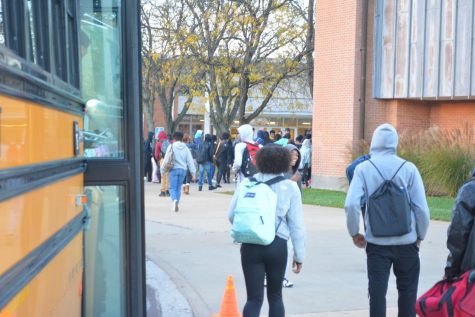 "We asked for a key so we won't have to walk around (to the door with the key fob), but we could not get one," said Ms. Sullins.
Hazelwood Central has several hall monitors throughout the day. Some students wanted to know why aren't the hall monitors being utilized in the mornings to watch the doors so that more entrances could be opened.
Dr. Mitchell did take into consideration about the hall monitors being used for those purposes, but decided against it. The administrators feel that the change has worked because it reduced fights, reduced unsupervised activity, and created a better environment for students.
"We did think about a lot of different ways to keep them open. This was all done for safety purposes. By doing this altercations have decreased," said Dr. Mitchell.